Pride & Clarke
Pride & Clarke is a former motorcycle retail empire, that was located in south London from 1920 until 1979. With an abundance of British heritage and culture references Pride & Clarke is today kept alive with a clothing collection inspired by the vast P&C archive and as an online retail destination for the labels Dave Carroll, The London Leatherman and more to come!
You can shop the current P&C collection here.
Pride & Clarke Ltd
Founded in London, England in 1920 Pride & Clarke goes down in history as being one of Britain's largest, if not the largest motorcycle dealership in the world, whilst selling everything you needed for your chosen motor sport from spares to clothing.
Here we pay tribute to the great P&C clothing archive. P&C most notably provided a vast selection of clothing for all motoring enthusiasts, with the label 'Pride & Clarke, The Motor & Motorcycling Clothing Specialists' produced as early as the 1920s through to 1979. You can shop the current collection of clothing inspired by this pure British heritage archive here.
Continue to read about the P&C archive below.
The 'Ranger' Jacket
Pictured here is a 1960s Pride & Clarke 'Ranger' Jacket featuring both P&C and Highwayman labels. It is understood that the leather factory in London who produced many of the P&C garments during this period also produced for the likes of Highwayman and Lewis Leathers, hence there being such a wide cross-over of styles seen in the archives of these London based leather jacket brands. This 'Ranger' jacket is a recent addition to our archive, it's original owner having customised the jackets collar with two RAF (Royal Air Force) drum badges.
Shopping at P&C
Mother and Son shopping at Pride & Clarke on a Saturday circa 1960
The Motor & Motorcycle Clothing Specialists
With customers needing the correct clothing to go with their chosen motor sport, P&C offered a large range of garments through comprehensive mail-order catalogues as well as in the showroom, so you could for example wear your new leather jacket, boots and gloves home on your new motorcycle. P&C offered a made-to-order service on many leather garments and highly popular were the P&C "best quality leather jackets at unbeatable prices". Other notable garments include P&C fur lined leather jackets, fleece lined waistcoats, black leather boots, gabardine raincoats, lambs wool lined gauntlets, t-shirts, leather belts and much more.
Pictured here is one of the rarest Pride & Clarke garments we have in our archive. This 1940s leather jacket is lined with a cotton/ wool blend fabric, printed with a unique pattern in P&C's signature red, black and white colour way. The original owner customised the jacket in the 1950s with cone (flat top) studs on the cuffs, on the back and with two triangle designs on the front panels. A skull and cross-bones is painted on its right sleeve.
P&C Arizona Jacket
The picture above from 1962/63 is of the late Robert 'Bob' Revees, who is 16 years old here and wearing a Pride & Clarke 'Arizona' leather jacket. His son is Dave Revees, the guitarist in the punk rock group The Straps.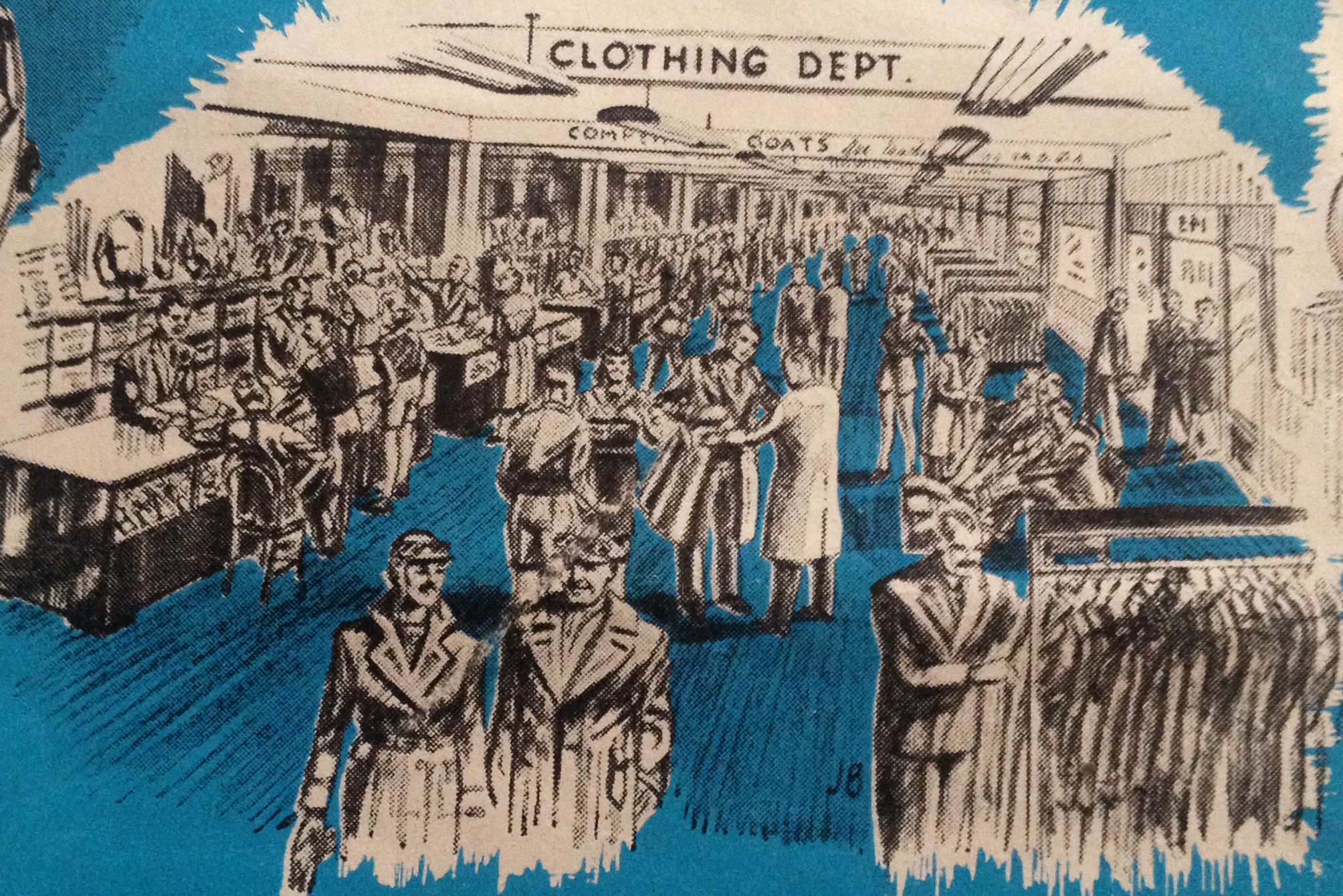 The Pride & Clarke Clothing Department. Circa 1951
Pride & Clarke Ltd illustration from the archive. Artists initials signed JB.
Famous For Clothing
Pride & Clarke advertisement for the Commando and Texan Mk III leather jackets circa 1964
Below is a late 1950s advertisement for the P&C Ranger Jacket.
English playwright and author Joe Orton wore a version of the 'Ranger' jacket in the mid 1960s.
P&C Arizona Jacket
In the Pride & Clarke Ltd, Stockwell Road window circa 1962
158-160 Stockwell Road, SW9
Located in Brixton, London until the early 80s, P&C not only sold motorcycles but cars, scooters, boats and bicycles too. The motorcycle showroom was very much the most impressive area spanning more than 220,000 square feet, with the P&C buildings running the length of Stockwell Road from Stockwell Road tube station all the way down to SW9 Brixton. The length of the façade was painted in P&C's trademark maroon red with this London landmark featuring in the 1966 film 'Blow Up', on various album covers and in many press photoshoots capturing the British motorcycling culture post WW1 through to the 1970s of which the establishment was a very popular gathering point for rockers, ton-up boys and greasers.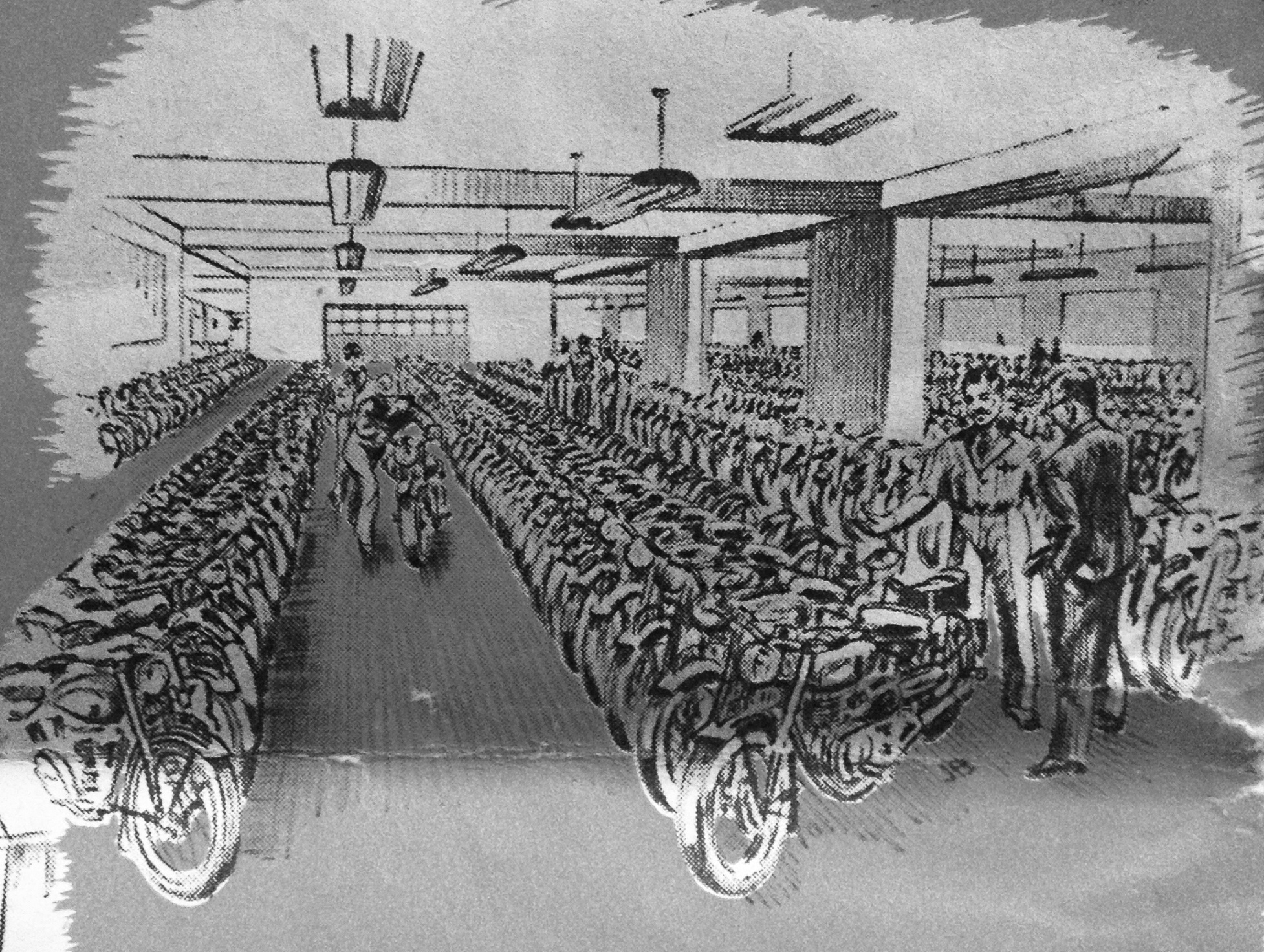 Motorcycle Showroom
Pride & Clarke Ltd illustration of the Stockwell Road motorcycle showroom. From the archive, circa 1951. Artists initials signed JB.
Motorcycle Showroom
With motorcycle sales being at an all time high between 1959 & 1960, P&C displayed no less than 2,000 new machines, in addition to a good selection of trade-in and second-hand motorcycles during the period. The image above is of the P&C showrooms as captured by the BBC whilst filming the documentary Chelsea Bridge Boys, 1965.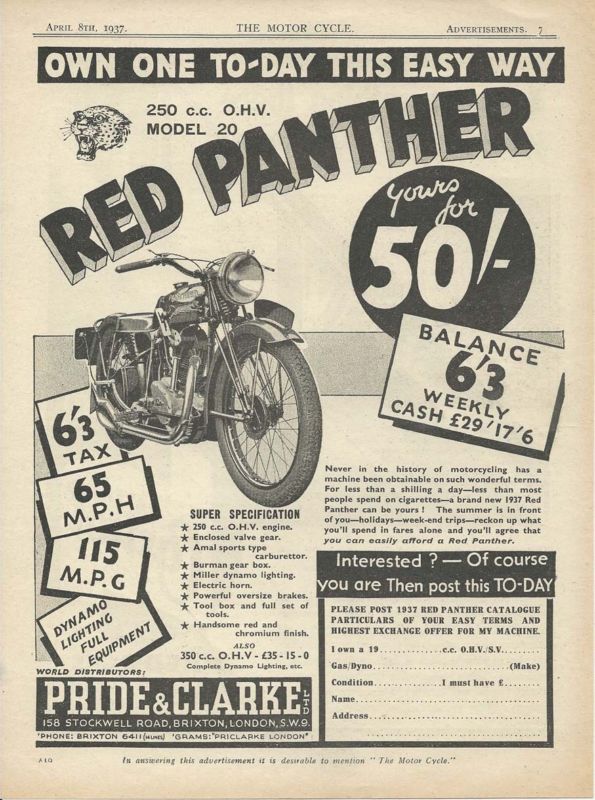 Red Panther
Selling a tremendous range of new motorcycles and side cars from Ariel, B.S.A, Enfield, Matchless, Sunbeam, Triumph, in the 1930's P&C offered it's very own 250cc OHV 'Red Panther' motorcycle and in 1939 for one year only offered the badged P&C 'Cub' a 122cc motorcycle.
The First 1933 248c.c Red Panther Motorcycle
Made for and sold exclusively by Pride & Clarke Ltd in conjunction with the famous manufacturers Phelon & Moore Ltd.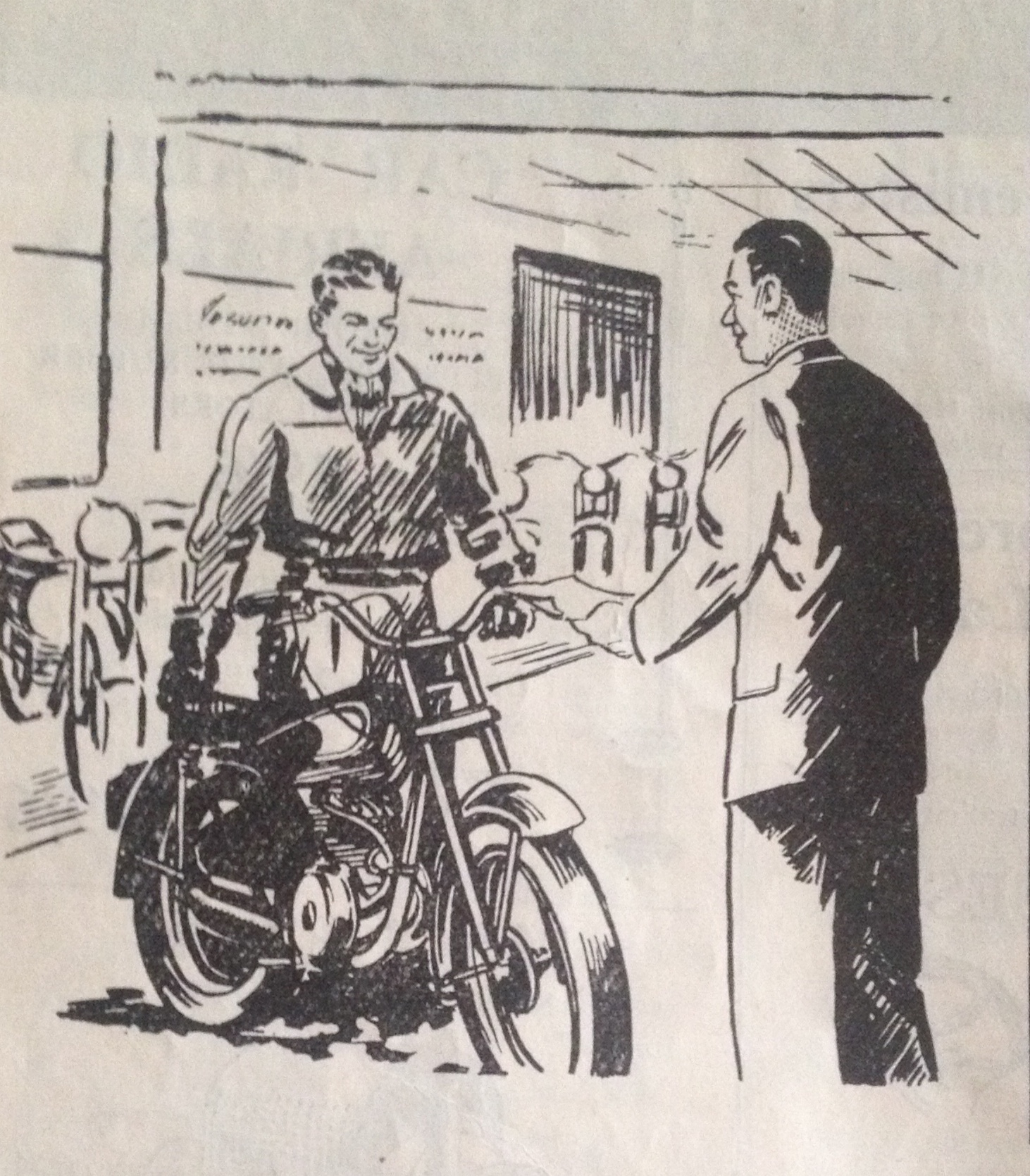 Motorcycle Showroom
Pride & Clarke Ltd illustration from the archive circa 1950. Of the Stockwell Road Motorcycle Showroom.
P&C sold a huge variety of motor vehicles
Including Vespa's and Lambretta's. Window shopping was a popular past time for visitors to Stockwell Rd. With P&C showcasing the latest and greatest the industry had to offer.
Largest Piston Stockist In The Country
Pride & Clarke Ltd illustration of the Stockwell Road spare parts department. From the archive circa 1951. Artists initials signed JB.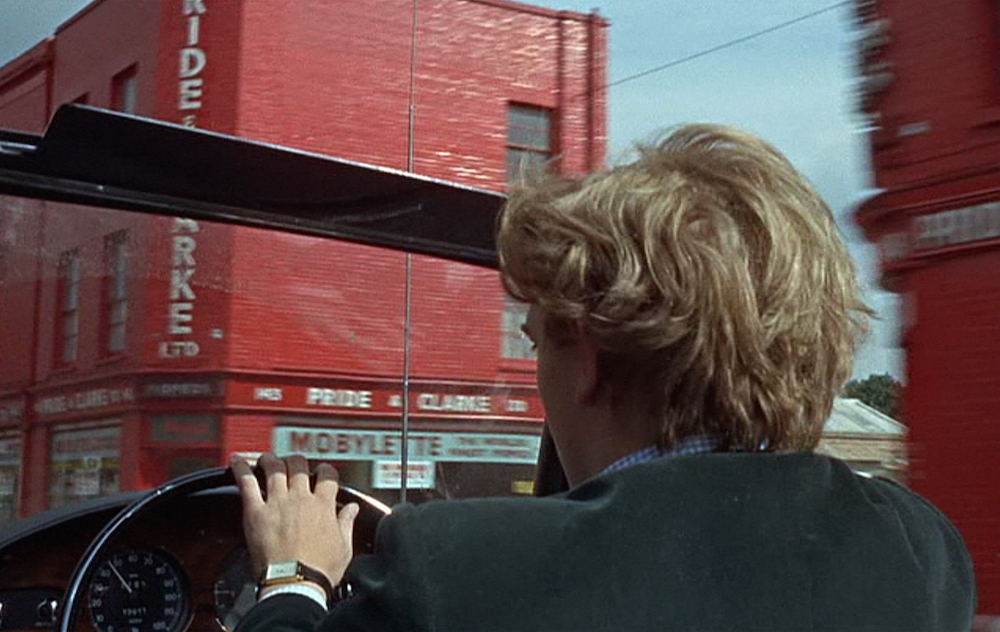 Blow-Up (1966) film by Michelangelo Antonioni
"Actors felt somewhat uncomfortable around the time Blow-Up was being made, with the thousands of bikers from all over the country congregating outside the bright red Pride & Clarke shop fronts (during filming)" quote Michelangelo Antonioni, Film Director.
Picture above is of actor David Hemmings as he starred in the 1966 film Blow-Up. This is from the iconic scene where he drives down Stockwell Rd through the red Pride & Clarke buildings.
You can read more about P&C and Blow-Up by clicking here.
P&C Mail Order
Not only was visiting the P&C showrooms in London popular for motor & motorcycling enthusiasts, but so was purchasing via mail order. P&C used Royal Mail and shipped world wide, just as we do today.
1963 outside the Pride & Clarke workshop
Rocker outside the Pride & Clarke workshop on Rumsey Road, Brixton London. Photo by Roger Mayne
Rockers on their motorcycles 1963
A Roger Mayne photograph of two rockers outside Pride & Clarke.
John Pride & Alfred Clarke founded Pride & Clarke Ltd. They were in business for over 62 years and sold the company in 1979 to Inchcape, a company that later became Toyota GB.
Pride & Clarke Ltd was acquired in 2010 of which an extensive archive of the now very rare P&C clothing has been collated. P&C currently produces ready-to-wear and made-to-order clothing and accessories from and inspired by this British heritage archive, made in England. You can shop the collection here.
We have a collection of P&C memoires, you can read them by clicking here
A gallery of Pride & Clarke advertisements you can view here.