P&C Memoirs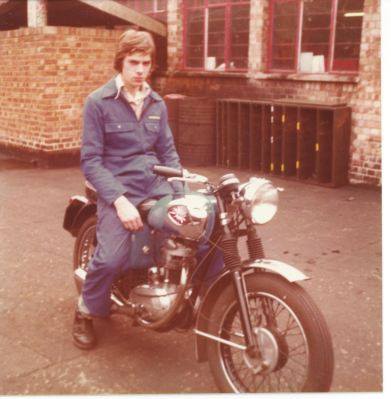 Peter Charlton, Pride & Clarke Mechanic 1978
After leaving the Navy I worked at Pride & Clarke as a mechanic from 1978 until it closed. Here's a picture of me on my BSA C15 around the back of the old P&C workshop on Stockwell Road. They didn't pay us enough to smile!
Photo credit: Peter Charlton
David Barnett, London Rockers Group
To be a rocker/ biker was engrained in my psyche from a young age, from the late 1960s through to the early 70s I saw Pride & Clarke each day as I went to the school next door. I was the kid who eagerly pressed his nose up against the P&C windows to see what was new and I got a huge kick out of walking the length of Stockwell Road through the P&C bike, clothing and accessory showrooms rather than taking the pavement home.
Edward Smith- Corgi Motorcycle owner, purchased from P&C in 1948
My Grandfather Charlie purchased this Corgi motorcycle from Pride & Clarke on Stockwell road in 1948. For 2 years he used the Corgi to commuted from Brixton Hill to Borough for work. My father Charlie also used the Corgi for communting and for the weekends and family holidays we spent at Boxhill throughout the 50s. The Corgi was passed down to me in 1962, with it being fully restored in 2000.
Photo credit: Edward Smith. Photo of his Grandfather Charlie in 1952 on the Corgi Motorcycle he purchased from Pride & Clarke.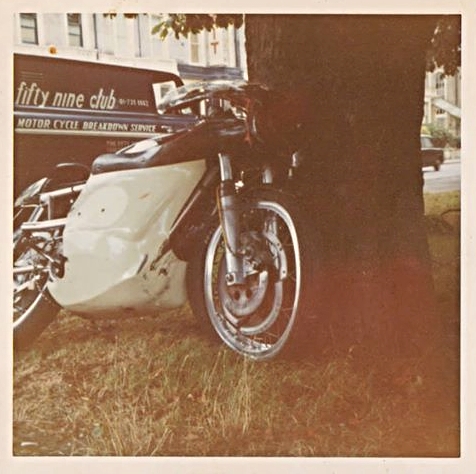 Lenny Paterson, Founder of Reunion Of The Rockers, Pride & Clarke Mechanic 1969
I bought this ex- works Racing Rickman Metisse in 1971 from Pride & Clarke for £325, with my Mom going as my guarantor through their finance. Fitted with 650 unit Triumph engine and unusually, for those far off days, a pair of Japanese 34mm carbs. The front brake was magnesium and a bit too good, hence the crash!
I worked in P&C as a mechanic in 1969 but had a row with the foreman over a spark plug helicoil he wanted me to fit on a BSA C15 without taking the head off because it would be cheaper, I refused to do it and got sacked. One funny thing that stuck in my head was his trick of making us wax the saddles/seats after a bike was serviced, so when the customer opened the throttle for the first time after picking their bike up, they would slide down the seat and think the power was improved by the service!
I went on to start High Gear Motorcycles in 1976 and one of my best a most reliable employees was previously the Spares manager of P&C in Stockwell Road for many, many years the renowned & well respected Les Cook or 'Cookie' as he was known by the lads. He was ex-army, never once late in 3 years, you could set your watch by him, he was full of fascinating stories, so we got on really well. Les died in the late 1980s, bless him. RIP Les.
Photo credit: Lenny Paterson, Racing Rickman Metisse outside the 59 Club
David Bowie: Starman. Biography by Paul Trynka
An extract from Paul Trynka's biography on David Bowie. David lived off Stockwell Rd and went to the school next door to Pride & Clarke in the 1950s.
'.... the main feature that dominated Stockwell Road was Pride and Clarke, a celebrated motorbike and car showroom that sprawled across a row of maroon painted buildings, later immortalized in Antonioni's (film) Blow-Up. This was where David (Bowie), the future car geek could ogle BSA's, Riley's and other legendary British bikes and cars.'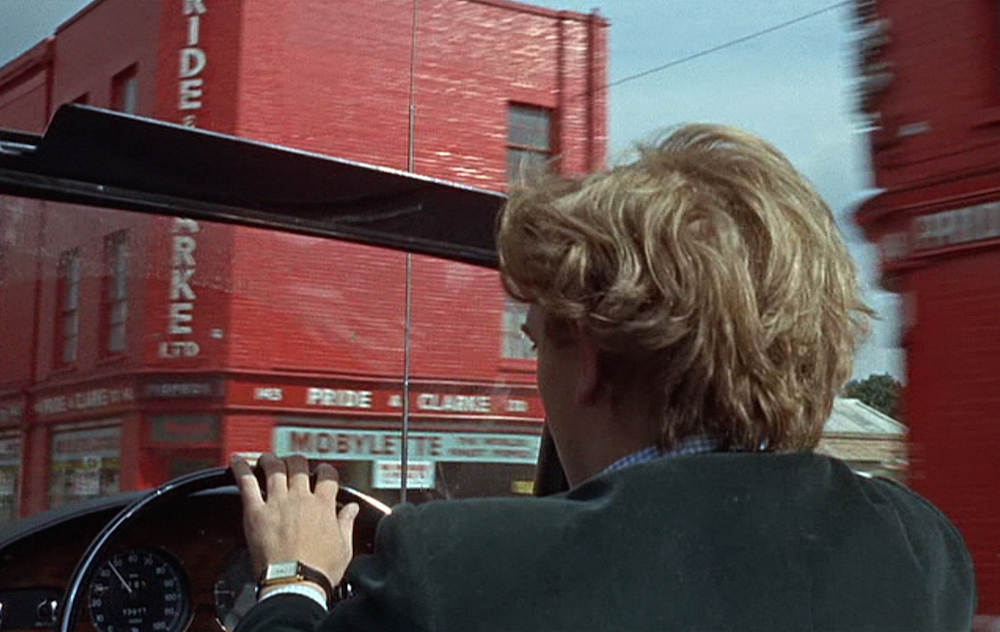 Blow-Up (1966) film by Michelangelo Antonioni
"Actors felt somewhat uncomfortable around the time Blow-Up was being made, thousands of bikers from all over the country would congregate outside the bright red Pride & Clarke shop fronts (during filming)" quote Michelangelo Antonioni, Film Director.
Picture of actor David Hemmings as he starred in the 1966 film Blow-Up. This is from the iconic scene where he drives down Stockwell Rd through the red P&C buildings.
Mark Wilsmore, Ace Cafe London
The Ace Cafe London heritage sits closely with that of Pride & Clarke, with riders from South London meeting up at the P & C showrooms on Saturday mornings in the 1950s and 60s, to then ride out via Chelsea Bridge up to the Ace for a cuppa, some juke box rock 'n' roll and a burn up.
Photo credit: Mark Wilsmore, heading off from The Ace Cafe on a burn-up to Battersea Park.
Jeff Bing- was a P&C Motorcycle Buyer from 1970-1972
I joined Pride & Clarke in early 1970 as a motorcycle buyer alongside another chap Stuart West. We both had a car and trailer and travelled round the UK buying used machines for resale in the Stockwell Rd Showrooms.
It was certainly an interesting place to work! Some of the stories from the 60s from customers who bought bikes at the time when there was 30 salesmen employed on a Saturday to cope with the amount of customers. I understand the record bike sales for one week was 622 machines. A dealer today would only dream of selling that amount in a year!
Something that always amazed me was the Postal Department where customers used to buy used bikes via mail order. The bikes would be sent by British Rail and when it arrived being the first time the customer would see what they'd bought!
Some of the people I remember include Bill Spencer the sales manager, salesman Tommy Fox and Mrs Judd who was the goods entry clerk and made a good cup of tea! Graham Tucker, Jimmy Brierton who every day used to go to P&Cs car site just down the road to paint the prices on the car windscreens. Sam Prosper who use to keep the bikes clean .The chap who ran the second hand spares department was Ken Hall who in his early days used to race at Brooklands, he used to come round to the buying office at lunch times to relay some of his racing stories.
Photo credit Jeff Bing.
Peter Postance- had an adventure to P&C in the 1950s!
'When I was about 12 years of age in the early 1950s my neighbour who was much older than me at about 16 years of age asked me if I wanted to go with him to pick up his new motorbike. It was Saturday afternoon in Burnt Oak on the Northern Line and I jumped at the chance. We got the underground to Pride and Clarke the other side of London and he picked out an ex WD Norton for £39.19.6s. There seemed to be row after row of them and he chose the one he wanted. After paying for it and filling in some paperwork the salesman filled up a milk bottle from a larger petrol can and explained they were not allowed to store petrol on the premises so he couldn't give us much. He started the bike easily enough and my neighbour and I drove away. There was not a proper pillion seat on the bike and I had to put my feet on part of the frame, gripping him tightly round the waist. It soon became apparent that not only did my neighbour not know the way home he had never ridden a motorbike before. After filling up with petrol and going round Hyde Park Corner twice we eventually found the Edgware Road and got to the Watling Estate where we lived. My father was waiting in the front garden and he went ballistic when he saw us arrive. However as an ex dispatch rider in the army he soon was riding the bike up and down the road and had overlooked the fact that my pal had no insurance and was only riding on a provisional licence. After painting the bike maroon my neighbour used it for work for years.'
Brian Daly- worked in the P&C Workshop 1960-1962
One day in the P&C workshop, early 1960s, when I was testing an ex-WD BSA M20 I lost control of it and was headed for the flight of steps down to the gents. I jumped off and allowed the bike to crash down the stairs, coming to a halt inside the toilets. It was recovered with no apparent damage, being ex-WD it took the crash in its stride! I however, got a bollocking from the foreman and mechanic Ted Andrei, who banned me from testing for a couple of weeks for it!
Chelsea Bridge Boy- Racing Rob
Racing Rob seen on the Honda outside the Pride & Clarke workshop on Rumsey Road, Brixton London. Rob was an infamous 'Chelsea Bridge Boy' as brought to our attention by fellow rocker Lenny Paterson.
Photo taken in 1963 by Roger Mayer
Let's Talk About Rockers- Ted Polhemus
'.....When a genuine motorcycle subculture did finally get going in Britain, rather than 'Bikers', they called themselves 'Coffee-bar Cowboys' after the isolated roadside 'caffs' (like, most famously, The Ace Café on London's North Circular) they hung out in between racing their machines. Or, much more exciting to the media, they were called 'Ton-up Boys' – a 'ton' being slang for doing more than 100 mph. With British companies like Lewis Leathers and Pride & Clarke producing their own versions of the 'Bronx' ('Perfecto') jacket, more could afford them. Those that couldn't made do with a similar style made from PVC rather than leather.'
An extract from the article Let's Talk About Rockers, by Ted Polhemus
Photo credit: Rockers at The Ace Café, UK Frank Monaco
Toyota Great Britain
'Pride and Clark were once a leading name in motorcycle sales and parts, then this South London firm made it big with cars as Toyota's official UK importer.'
'Pride and Clark was the original UK importer and distributor (of Toyota cars), a South London family firm that launched its enterprise after John Pride travelled to the Far East to see the developing Japanese car industry for himself. His faith in Toyota was shared by a handful of car retailers who set up the first Toyota showrooms, at first with just a single model line – Corona – to offer their customers.'- Toyota GB
The Book Of The Panther by W.C Haycraft
An extract from The Book of the Panther by W.C. Haycraft. Third Edition 1948
'.....several years ago Messrs. Pride & Clarke, Ltd., of 158 Stockwell Road, Brixton in conjunction with the famous firm of Messrs. Phelon & Moore, Ltd., decided to launch (a motorcycle) on the market at a remarkably low price a lightweight 248 c.c four- stroke , overhead-valve model of outstanding design, workmanship and performance. Thus in 1932 was the first Red Panther (motorcycle) born. Designed from stem to stern on the lines of the very successful heavyweight Panthers it proved an immediate success and, as the author can vouch for, a delightful little machine to handle. Since its introduction a number of different models ranging from 248c.c to 348c.c have been produced and marketed exclusively by Messrs. Pride & Clarke, Ltd.
For more information on the Red Panther see the P&C Gallery.
Beautiful Idiots & Brilliant Lunatics. A Sideways Look At 20th Century London. By Rob Baker
..... the motorcycle business started to change and during the seventies Japanese motorcycle companies such as Suzuki, Honda and Kawasaki took over from the old British and European marques. Alfred Clarke was an astute businessman (the nickname 'Shark' wasn't gained for nothing) and the Pride & Clarke firm was sold to Inchcape for about £3 million pounds in 1979. Before the company and the red paint were whitewashed from history, however, the striking red building of the Pride & Clarke showrooms had one more brush with fame. In 1977, the former Montrose vocalist Sammy Hagar was in London to record his second solo album at Abbey Road. Known to his fans, but to no one else as the 'Red Rocker', someone at Capitol Records had the bright idea that the Pride & Clarke shops on the Stockwell Road were perfect for the cover of the so called Red Album. So as not to look too downmarket, he was told to stand next to an expensive American car, also coloured red. There is no record of what Sammy made of the Stockwell Road and there's no record left of the ubiquitous Pride & Clarke shops. Unless you look very, very closely.
An extract from Beautiful Idiots and Brilliant Lunatics by Rob Baker